Bed Edging & Borders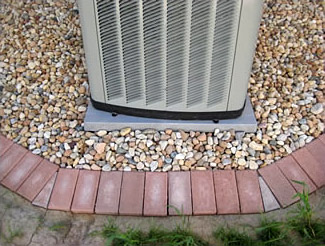 Bed edging and borders come in many different shapes, styles and colors.
View different types of stone edging here:
Bed edging and borders not only offer aesthetic boost to any landscape space but also serve as demarcation between the garden or lawn area and concrete surfaces like pool decks and walkways. When installed properly, they can easily enhance the appeal of the landscape and complement the other elements like water and fire features, as well as outdoor living amenities. Additionally, they can make the outdoor area more organized since different elements are segregated and contained in their designated spots.
Perfect Materials for Edging and Borders
The good thing about creating bed edging and borders is that there's no shortage of materials one can use. Among others, we can use any or a combination of the following materials:
Bricks. Bricks rank as among the all-time favorite materials of DIY enthusiasts and long-time landscapers. They exude a timid beauty that makes one feel closer to nature. They also come in different shapes and hues so it's easy to get a customized look.


Concrete blocks. If you're big on durability, we suggest you go for concrete blocks for your bed edging and border. They are insanely sturdy and highly decorative as well.


Natural stones and rocks. You can never go wrong when you have natural stones and rocks as primary materials for your bed edging and borders. They are very versatile and easy to install, plus they just look absolutely stunning.


Metals. Some property owners prefer a more modern appeal so they settle for metal for their desired bed edging and border. Some of the most common ones used in lawns are brass, iron, and copper.


Wood/timber. Wood and timber are easily the cheapest materials that one can use to create bed edging and borders. They can even come for free and only require flexing some muscles to complete.


Custom-designed Edging and Borders
We can assure you that our company is the go-to place for carefully designed bed edging and borders. For flower beds, we recommend gabion walls, natural stones, bricks, and wood or timber. Meanwhile, shrubs could work well with rocks, concrete blocks, and old logs. We will give you free rein on the specific type, colors, shapes, and sizes of edging materials that we will use on your lawn. This is to ensure that the edging and borders will be fully customized to your specifications and needs. With us, your dream bed edging and border is just a phone call away.
Just dial (618) 416-0862 right now.