Mowing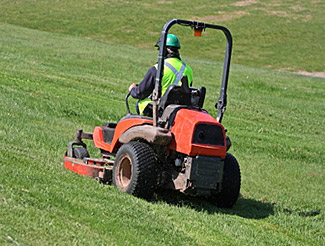 Mowing is offered on a weekly or biweekly basis. Every mow consists of a superior cut, along with trimming and edging. All surfaces are cleared of clippings and debris. We typically do 25-32 cuts per year. Mowing heights will be adjusted, depending upon seasons, weather and turf condition. Mowing patterns will be rotated to prevent rutting of turf. When mowing, we rigorously inspect property for developing issues and will inform you of any that arise. We also closely monitor weeds and do our best to ensure a weed-free environment.
Professional Mowing Services
There is no better place in Illinois to find professional landscapers than here at MK Outdoor Services. We have been in the business since 1992, long enough to have mastered the different landscape maintenance tasks such as keeping lawns well-trimmed and immaculate at any given time. Our crews perform mowing task systematically and follow the right methods and techniques to ensure the best results for our clients.
We only hire well-trained crews with professional training and thousands of man-hours of actual mowing experience. Our people are highly skilled, dedicated, and meticulous in this particular task so clients like you can expect a hassle-free experience with favorable outcomes. With us, you'll be surely pleased with your lawn's spic-and-span appearance.
Well-maintained Mowing Equipment
MK Outdoor Services has complete lawn care tools and equipment. We use riding mowers, trimming tools, edgers, and other lawn maintenance tools when necessary – including baggers, blowers, and vacuums. All our tools are well-maintained – sharp blades for mowers, as well as functional blowers, baggers, and vacuums. By keeping our mowing equipment in perfect condition, we're able to always rise up to the challenges of every task entrusted to us by our valued clients. It makes us well-respected and highly trusted by property owners in Glen Carbon, Edwardsville, Fairview Heights, and other areas nearby.
Affordable Mowing Service
Our company offers affordable service rates for residential and commercial clients. We typically urge clients to go for weekly mowing contracts or even yearly contracts so they can have discounted rates and eliminate the need to constantly call us to mow their lawns. While we maintain lower rates for the services we offer, it doesn't mean that clients will get sub-par quality. What we can assure them is our dedicated and premium services that will guarantee perfectly-cut grasses at regular intervals.
Proper Mowing Ensured
At MK Outdoor Services, we offer professional mowing services that produce outstanding results. First, we use the right mowers with sharp blades to cut through the grass effortlessly and correctly. Secondly, we adjust the mower's height depending on the season and grass variety that we're cutting. In summer, we generally set the cutting deck high to allow for the grass to grow high and prevent weed growth. Meanwhile, during late autumn, we lower the deck's height to keep snow mold from forming on the turf. Lastly, we collect the grass clippings and recycle them as mulches or dispose them of properly. All these steps allow us to offer clients their desired outcomes and make their lives easier as they don't have to worry about looking after their lawns on their own.
If you have more questions on our mowing services, please contact us today at (618) 416-0862.