Freestanding Walls & Columns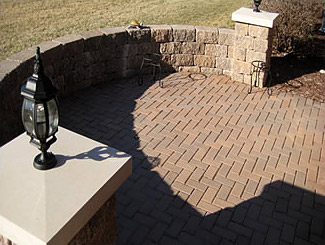 Freestanding Walls & Columns are walls that are exposed on both sides and do not retain soil.
Freestanding walls provide excellent aesthetic options and enhance the look of your property.
We can incorporate the following options in your wall:
90 degree corners
Jogs (used to break up straight lines and add stability)
Pilaster (used to add stability and a touch of elegance)
Columns (these can be stand alone as well for an added landscape feature)
Curves
Product Info
Elegant Freestanding Walls and Columns
All of the freestanding walls and columns that we create for Illinois clients are built by our team of in-house artisans. These landscape structures benefit from our expertise in custom designs and landscape development. Our crews can create themed walls as desired by each individual client – be it Victorian-style or somewhere along the line of Contemporary American architecture. In order to achieve the best results, we have recommended spots outdoors where these features are best installed. These areas include patios, pools, pathways, gardens, driveways, and front yards. The design of these landscape amenities is generally dictated by our clients, but we also suggest the perfect design by considering the surrounding structures, the specific spot where they are installed, and the clients' working budget. We strive to find the perfect balance between these various elements to come up with the right theme or design. This will certainly make the walls and columns stand out in the backyard.
Top-quality Materials from Leading Suppliers
Since 2008, we have made it a point to use only the best-quality materials in all our projects. Whenever we're installing freestanding walls and columns for valued clients, we see to it that only materials from trusted manufacturers are used. Incidentally, we have cultivated and maintained partnerships with leading suppliers of landscaping supplies such as Versa-Lok. The company offers topnotch products for freestanding walls and retaining walls. Its solid units are easily stackable without reinforcements up to at least four feet. For taller walls, you will only add minimal reinforcements to guarantee strength and stability. Meanwhile, Versa-Lok's columns feature hollow center, which can accommodate wires so they can actually be fashioned into lampposts if desired. And for clients who prefer other suppliers, we can accommodate their request and source their desired material from their chosen supplier.
Walls and Columns at Discounted Rates
You won't have to worry about shelling extra dollars just to have your dream freestanding walls and columns. Our company offers discounted service rates for our installation services so clients across the state can easily afford to hire us. As we've been doing since 2008, we will ensure that all your design requirements and expectations are met and even exceeded so you can truly enjoy the walls and columns that we will build for you. From Edwardsville and Shiloh to Waterloo and Columbia, we have installed countless walls and columns that have timeless beauty and durability. This is thanks in great part to Versa-Lok's premium products that facilitate easy installation and customization. The different shapes and designs can be configured to suit the peculiar taste of our client.
Call us now at (618) 416-0862.