Retaining Walls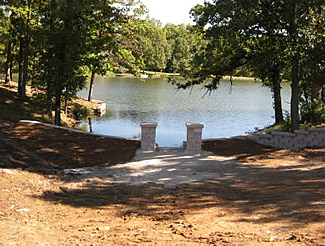 Retaining Walls are structures designed to resist the lateral pressure of soil when there is a desired change in ground elevation.

We construct retaining walls for residential and commercial properties. Retaining walls can be built to any height. We offer several different types of wall combinations, such as Versa-Lok Retaining Wall Systems and Keystone Retaining Wall Systems. We use natural stone in a variety of colors and styles to meet each customer's individual needs. We can also incorporate steps and decorative columns into the walls.

The types of walls we generally construct include:
Shorelines and waterways
Curves and corners
Tiered
Product Info
Trust the Experts in Retaining Wall Installation
Having handled numerous installation projects throughout the years, we have managed to achieve a level of expertise that makes us among the best in the industry. Our crew members are dedicated individuals who are always ready to take on any kind of project involving retaining walls. Since 2008, we have successfully completed challenging installation jobs for a multitude of commercial and residential property owners across Illinois. We make it a point to work carefully from the drawing board down to the installation sites. Our people ensure proper planning and site preparation in close coordination with clients. We never skip a step just to complete projects fast, but follow a meticulous approach that allows us to construct long-lasting and beautiful walls.
We can build all kinds of retaining wall systems such as cantilever, gravity, anchored, and piling. We can also construct wall types like shorelines and waterways, curves and corners, and tiered, depending on what our clients need or what their properties demand. Our installers only use wall systems from trusted manufacturers such as Belgard, Keystone, Versa-Lok, and Anchor Wall, so clients are guaranteed of high quality retaining walls that function perfectly. The walls we build are proven to last for many decades, making them truly wise investments to make.
Beautiful Retaining Wall Designs
Nobody likes a wall that is sturdily built but looks bland and unappealing. At MK Outdoor Services, we're known for the stunning retaining walls that we construct for our clients. We offer unique, custom designs that capture our clients' personality and satisfy their design requirements. For us, a retaining wall should be a thing of beauty and must be indicative of the property owner's unique character so it won't look just like any other wall.
To achieve a unified look, we can build walls that will match with your existing landscape theme. We will use your design requirements as springboard for the design plan that we will follow in installing your desired retaining walls. Using retaining wall materials from reliable names, we can achieve wide range of designs – from Old World to modern/contemporary. All you have to do is call us and tell us your design ideas so we can begin working on your dream walls.
Affordable Installation Rates
We can guarantee you the lowest and most reasonably-priced rates for our retaining wall installation services. We will strive to work within your budget so you can realize your dream walls without wearing out your wallet thin. Please feel free to call us during office hours at (618) 416-0862 to talk to our friendly staff.

Click on the images below to view a larger display.


Photo 1

Photo 2

Photo 3

Photo 4

Photo 5