Snow / Ice Removal
Snow & Ice Management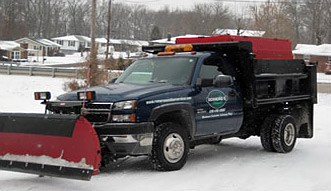 Snow and ice management is offered for residential and commercial properties and subdivision developments. MK's Outdoor Services offers unsurpassed services when it comes to snow and ice management. Snow removal services are offered 24 hours a day, with a full range of services offered to meet every customer's needs.

Our staff is on standby awaiting oncoming winter storms and we consistently monitor weather radar and reports. We tailor our snow plowing to begin on customer request or at 2 inches of snow fall and offer pre-treatments during impending ice and snow storms to allow for safer accessibility. Some of the ice control materials we use include:
Rock salt
Potassium
Magnesium Chloride
Urea
Calcium Chloride
We understand the importance of keeping your property safe for your employees and customers. With our professional snow removal equipment, you can rest assured that your snow removal and salt treatment will be done efficiently and correctly with MK Outdoor Services.
Properly Trained Snow Removal Team
Our company is able to offer reliable snow and ice removal services through our skilled snow removal team. Our crews know the right techniques and methods to safely and properly get rid of ice and snow buildup. They follow our tried and tested removal procedures and carefully use all our snow removal equipment to avoid damaging clients' paved surfaces and other landscape structures. Our personnel regularly attend skills training to upgrade their competencies and keep them abreast with the latest methods in removing snow and ice. This makes them the best people to call when you have a snow or ice buildup that must be addressed immediately.
Complete Snow Removal Equipment
At MK Outdoor Services, we always value the satisfaction of our clients because it's them who we work hard for. With us, you can expect outstanding results and fast project completion since we use modern tools and equipment. When clearing driveways and other surfaces with thick snow buildup we use either a 3-point snow blower or a loader-mount one, depending on the volume of snow to be removed. Additionally, we have other kinds of snow removal equipment like de-icers, salt spreaders, snow plows, and pushers (available in steel or rubber edges). We likewise have hand tools like rakes and shovels for areas where heavy equipment are not feasible to be used.
Safe and Efficient Snow Removal
When you get our services to handle your snow and ice removal concerns, you can expect nothing but safe, efficient, and proper removal procedures. Our long-time crews have worked on numerous similar tasks across Swansea, O' Fallon, and other Southern Illinois locations so they know what they're doing every time. They make no shortcuts but stick to our proven removal methods to ensure that the job is done right and without causing unnecessary damages to our clients' property. They also clean up after each project and take the collected ice to a proper disposal facility. Rest assured that we'll address the situation as fast as we can and in the most proper ways possible.
Affordable Snow and Ice Removal Services
For many of our clients, affordability is always a deciding factor. As such, we see to it that our rates are reasonable and within our clients' budget range. We also offer affordable packages and yearly contracts for those who want a worry-free winter season. Our comprehensive snow and ice removal services can easily beat our competitors when it comes to efficiency, cost, and prompt service.
Please call us today at (618) 416-0862.