Landscaping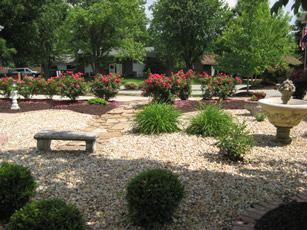 MK Outdoor Services prides itself on exquisite landscaping design and installation. We offer a wide array of landscaping options to fulfill each customer's needs. Working with our team will be a worry free, pleasurable experience. You can rest assured the job will be done to your utmost satisfaction. Quality and customer service is our number one priority and is never sacrificed. With our experience and competitive pricing, the possibilities are endless.

Click Here to view Photo Gallery

Click on any of the links below to find out more about our Landscaping Services:
Landscaping Services in the Greater Metropolitan St Louis Area
If you're looking for Landscaping in Belleville, Illinois, Landscaping in O'Fallon, Illinois or Landscaping in Swansea, Illinois you have come to the right place. Each one of our technicians come with years of experience to make sure the job gets completed on time and without any issues. We will work one on one with you to either help you create a new landscape around your home or business, or we can also offer upkeep and maintenance to keep it looking beautiful all year long.
Keeping your landscape clean and pristine is important when it comes to the value of your home or business. A beautiful landscape around your home will give it the curb appeal that you neighbors would be jealous of and with the maintenance plans that we offer your home could look beautiful all year around.
When it comes to businesses, landscaping is important to make sure that your customers feel comfortable coming to your location. If for any reason visitors to your business do not like the way it looks or if you have unsafe landscaping that someone could trip or fall on, your customer may not ever want to come back.
We are currently based in Swansea, Illinois but we service a large area that includes Landscaping in Edwardsville, Illinois and Landscaping in Glen Carbon, Illinois. So if you live in or around these areas we can offer you a beautiful new landscape or we can always take over the maintenance of your landscape and keep it new and fresh. If you think you might live just outside of our reach, just give us a call and we can easily let you know if we can help you, if we cant we can at least point you in the right direction. We're here to help you and your landscaping be all that it can be at an affordable rate.
We focus ourselves on customer service, detail and the quality of our craftsmanship. So if there is something that we can do for you, please feel free to contact us any time. Even if you are in need of a service that you do not see listed on our website, we still can help you or your business look amazing. What people see when they arrive at your location, they will immediately notice if you have a professional take care of your landscaping, which always makes a great impression.
If you are interested in having us come to your home or business for a quote, please feel free to visit our contact us page to send us an email, or you could call us any time at the following number: 618-416-0862
Illinois' Most Trusted Landscaping Company
MK Outdoor Services is one of Illinois' most trusted landscaping companies. We are able to achieve this status by providing our clients with topnotch services regardless of the scope or complexity of the projects we handle. We are also the choice of many residential and commercial clients across the state for our affordable, professional landscaping services. Most of our highly satisfied clients come from Swansea, Belleville, O'Fallon, and other key Illinois cities. These people can attest to our expertise in landscape development, renovation, and maintenance. If you are still looking for expert landscapers, don't go far since MK Outdoor Services is the best company to hire for your project.
Comprehensive Landscaping Service
Our comprehensive landscaping service is one of the reasons why we are popular among homeowners and business owners in the areas we serve. Our clients can have a worry-free project since they won't have to hire several contractors for their outdoor improvement projects. We can handle various aspects of landscape development and installation - from creating customized landscape designs to installing awe-inspiring landscape features and amenities. We can install all kinds of softscape elements such as annuals, perennials, shrubs, turf, and trees. We create a more functional landscape by installing hardscape features such as patios, walkways and pathways, pool decks, and outdoor living amenities. We also complete your outdoor setup by installing water amenities, fire features and wood elements. We can even maintain all these features to let you enjoy a lush and healthy landscape all year round.
Outstanding Landscape Setups
We can always guarantee outstanding results because of our seasoned landscapers. We have creative designers with extensive experience in residential and commercial landscape design. They know the right features and amenities that will perfectly suit your needs, lifestyle, and desired aesthetic appeal. We also have a well-experienced landscape installation team. Each member of the team is a specialist so you are guaranteed that each landscaping task is handled by an expert. For example, we will assign a plant expert to handle the installation of your gardens and other plantings in the landscape. We also have hardscapers, irrigation technicians, certified masons, paver specialists, water feature builders, and professionals who can work on specialized landscaping tasks. With our complete resources, we can offer comprehensive but affordable services to our clients.
Call us now at (618) 416-0862 to inquire about our rates, terms, and financing options. You may also visit us at our Swansea office to discuss personally the details of your landscaping project.