Lawn Care O'Fallon, IL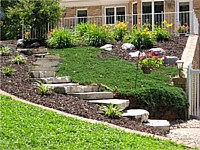 For years, MK Outdoor Services has been providing outstanding lawn care services for Illinois clients. Our company is the top choice of property owners in the state for our professionalism and systematic procedures that guarantee excellent results. The numerous projects that we have handled in O'Fallon, Swansea, Belleville, and surrounding areas are proofs that our clients are satisfied with the kind of services that we offer.

If you also want to have a well-maintained and attractive lawn, please call us today at (618) 416-0862. Rest assured that you'll get the best lawn care service from the most trusted landscape maintenance company in Illinois.
Experts in Lawn Care and Maintenance
At MK Outdoor Services, we employ some of the best landscapers in the state. They have extensive experience in landscape and lawn maintenance, so our clients are assured of quality workmanship and expert handling of any task assigned to them. Moreover, they also use proven methods and techniques that ensure fast and successful completion of all lawn care tasks. Aside from our experienced crews, we also have in our team certified crews who can work on specialized jobs, such as mowing, fertilizing, and pesticide application.
Complete Lawn Care Services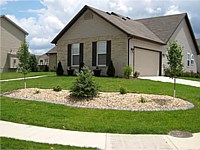 Our comprehensive lawn care service is one of the reasons why most O'Fallon residents and property owners in surrounding areas choose us. We can work on various lawn maintenance jobs that our clients may require. From simple mowing and trimming to performing complex tasks, such as applying fertilizers and controlling weed and pests, we guarantee clients that these will be handled proficiently.
Here are some of the lawn care tasks that we offer:
Mowing. Property owners in O'Fallon, IL and nearby cities prefer our mowing service because of our expertise in this area. We are knowledgeable about the maintenance needs of different types of grass, so we can ensure their health and proper growth. Our crews apply proper mowing techniques and cut grass based on its recommended height. This approach always results in a clean and healthy lawn.


Fertilization. Your lawn needs nutrients at the right time and frequency to encourage growth and ensure its health. When you hire us for this task, we will use the right combination of fertilizers and apply them at the right season. We also consider the grass type when creating a customized fertilization program for your lawn.


Mulching. Mulches are great additions to lawns for their aesthetic benefits. Our mulches are organic, so they are also good sources of nutrients for your plantings.


Core aeration. Aeration and dethatching must be performed on a regular basis to enhance turf growth. The process allows air, water, and other nutrients to penetrate the turf's roots, making it more robust and healthy.


Bed maintenance. Our lawn care team can make your flower gardens bloom the whole year round with our flower bed maintenance services. We will perform all the necessary care to make them attractive and lush.


Fall and spring cleanups. You can also hire us to perform fall and spring cleanup jobs. We have the needed manpower and the right tools for a thorough lawn cleanup job. We have baggers, blowers, and other equipment that ensure fast completion of the task.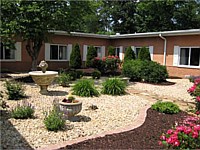 Hire the Best Lawn Care Service Provider
Lawn care must be handled by experts to ensure a lush and well-manicured lawn. And if you're from Illinois, MK Outdoor Services is the best company to hire. We have the best people, complete tools, and client-friendly rates. Hire us today by calling (618) 416-0862.