Landscaping Design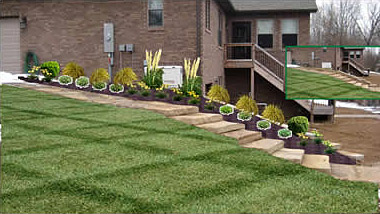 MK Outdoor Services uses the most innovative design software available to design your dreamscape or outdoor paradise. We offer virtual and 3-D designs. In addition, we can show you an example of what your current landscaping will look like after we have updated or altered it.

Our software can show you what outdoor or holiday lighting will look like on your home, and custom water features. This will make you certain that you are getting the landscaping you desire before the job is even started.
Personalized Landscape Designs
At MK Outdoor Services, we always consider your ideas, needs, and budget when creating your dream outdoor setting. The landscape design plan will include carefully selected elements, such as fire features, waterscapes, plantings, and hardscapes. Our design team will ensure that these elements are in their perfect spots to achieve the best results. We can guarantee you a unique landscape setting that will awe your family and guests. Our design plan will also showcase your outdoor area's beauty and give guests a peek into your design taste. With us, you can expect a truly personalized landscape that you will be proud of for decades to come.
Landscape Design Themes
Our landscape design team can create custom designs to suit your needs and design taste. You may also choose from popular landscape themes, which can easily complement with your home's architectural design. These are the different designs and themes that you may choose from:
Mediterranean. This is perfect for clients who want a landscape that is characteristic of cliffside or seaside communities in the Mediterranean region. We can recreate a property that has statuaries, terra cottas, and tiered fountains to signify a Spanish villa or Italian seaside dwelling.


Zen. Do you fancy an outdoor location that exudes tranquility and communing with nature? Then no better choice than a Zen-inspired Japanese landscape theme. We can include koi ponds, bamboos, and Japanese-style garden.


Tropical. If you want a landscape that looks like a Balinese or tropical island getaway, then we suggest going for the tropical theme. Palm trees, bird baths, and brightly colored annuals and perennials will make sure that you'll always feel like you're stuck in a secluded island paradise each time you set foot in your outdoors.


Contemporary American/American southwest. What better way to show your pride as an American than choosing a contemporary or American southwest theme? We can add cacti, American hardwood, or a lap pool to mimic a typical American landscape scene.


Sustainable Landscape Designs
At MK Outdoor Services, we promote sustainable design practices in all our projects. This practice goes hand in hand with our low maintenance landscape design to give you a cost-efficient landscape setting. For example, we include plants that require minimal watering or are native to your area, as well as permeable pavers and drip irrigation. These elements make the landscapes we design truly outstanding in their aesthetics, budget friendliness, and benefits to the environment.
Call us today at (618) 416-0862 to get our landscape design services.