Irrigation Maintenance & Installation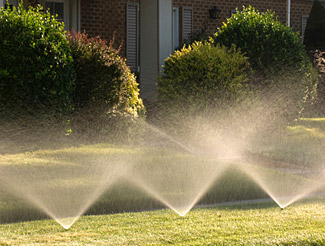 Backflow inspections
Irrigation start up, including inspection of entire system and adjustment of all heads to ensure proper watering.
Irrigation inspections are done during routine mowing programs to ensure system is working properly and for seasonal adjustments.
Irrigation system will be winterized in fall by using forced air from a compressor. This clears all main and lateral lines of water. System will be inspected for any necessary repairs at this time as well.
Professional Irrigation Installation
At MK Outdoor Services, we can install all kinds of landscape irrigation systems for commercial and residential properties. Our professional irrigation maintenance and installation services cover these types:
Sprinkler systems. The beauty of sprinkler irrigation systems is their versatility: they can either be installed using sprays, overhead sprinklers, or guns. They are best installed on large lawns to minimize human efforts.


Drip irrigation. Drip irrigation is perfect for property owners with efficiency as top concern. Drippers target the root zones to maximize plant growth without wasting water. This system keeps runoff and water loss at bay.


Rotary system. When the area that must be covered spans a rather large portion of the property (up to 100 feet), then it's ideal to use the rotary irrigation type. While it covers a considerable expanse of land, it does so using minimal amount of water, so it's still an efficient machine.
With us, clients can expect a fully functional and reliable irrigation system since we use only products from trusted manufacturers. Among the brands we carry include Rain Bird, Hunter, and Toro, to name a few. These manufacturers offer high quality and tested irrigation systems that can meet and exceed the demands of all property owners. We will help you zero-in on the perfect irrigation system based on your irrigation requirements and budget.
Irrigation Maintenance Plan
Aside from installing irrigation system for clients across Illinois, we also provide affordable irrigation maintenance services. We can do regular inspection of all system components to determine potential problems and perform the appropriate preventive maintenance procedures. We can check water lines, sprinkler heads, and controls to see if they're working perfectly. Our certified irrigation technicians have complete tools and know the right solution to all kinds of irrigation problems. We can devise an irrigation maintenance plan in close coordination with you so we can have a definite schedule and idea on how we can keep your irrigation working perfectly all-year long.
The Best Irrigation Maintenance and Installation Services
You won't need to scrimp just to get professional irrigation maintenance and installation assistance: all you have to do is contact us today. We can guarantee you that our rates are budget-friendly with the ultimate assurance that you will have lush plants in your property. Please call (618) 416-0862 right now. We'd be delighted to assist you and schedule a visit to your property to better understand your specific irrigation needs.