Patios, walkways & natural stone steps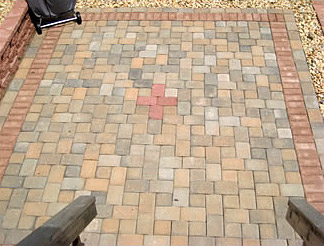 We specialize in flagstone, pavers, and stamped concrete. We offer these for commercial and residential properties.
Pavers: These can be used to construct driveways, sidewalks, patios, and parking lots. There are numerous shapes, sizes, and colors of pavers that can be used to achieve the desired look and they are an excellent choice for the jobs referenced above. We also offer the practice of sealing paver patios. This enhances the color and longevity of the pavers.
Click Here to view a Pavers Color Chart
Flagstone: These are generally used for patios and walkways. Flagstone is natural and the pieces vary in size, shape and color. This is used to create a rustic landscaping look.
Stamped concrete: This can be used for any of the above referenced jobs and can also be sealed to enhance color and longevity of the concrete.
Natural stone steps: We often use these to create a natural landscape setting. The stone varies in size and shape. These steps are nice when used in combination with flagstone to create a rustic, natural look.
Belgard Pavers
Romanstone Pavers
Our Custom Patio Designs and Features
Our company builds custom patios that are durable and long-lasting, making them vital structures in any landscape setting. Clients like you may choose a stand-alone patio or an attached type. You may also go for a roofed patio or pick the traditional open type. Additionally, we can include different amenities to make your dream patio more functional and inviting. Specifically, we can add the following features:
Dining set. If you love dining al fresco style, then an outdoor dining set is a perfect add-on.
Fountain. Your stay outdoors will become more relaxing with the sound of water coming from a fountain strategically placed in your patio.
Fire pit/fireplace. Cold weather won't be a deterrent in your desire to spend time outdoors when you have a fire pit or fireplace right smack in your patio area.
Sofa/lounge chairs. Nothing makes staying outdoors more comfortable and relaxing than sitting on a plush lounge chair or lying on a leather sofa.
Sitting walls. Sitting walls in your patio will provide ample space for family members and guests so you can enjoy a casual chit-chat.
Outdoor lighting. Let us set up the right mood at night by installing the right outdoor lighting in your patio.
We will use topnotch pavers and natural stones to build your dream patio. This is to ensure that the patio will last for many decades and look stunning at the same time. We may use your desired materials like brick, slate, granite, marble, and the like to create the exact look that you're after.
Carefully Installed Walkways
We can guarantee careful installation of walkways that start with a well-planned design. Our installers ensure that walkways are built in strategic spots in the landscape or outdoor area so they don't look out of place. Likewise, we use topnotch materials such as natural stone pavers to achieve stunning walkways that demand attention. But for those with limited budget, we can build concrete walkways using stamped or stained concrete methods. Our skilled installers can mimic the look of more expensive materials like marble or granite so your walkway will still look elegant.
More Appealing Landscape with Natural Stone Steps
Natural stones are highly recommended for garden steps since they offer a subdued, yet enigmatic appeal. Additionally, they are durable materials that can ensure many decades of continued benefits to the property owners. Natural stones are great for any garden theme or setup since they come in different shapes, textures, sizes, and colors. Rest assured that we can make your landscape more inviting and appealing just by installing natural stone steps.
Please call (618) 416-0862 right now to inquire about our rates for custom-designed patios, walkways, and natural stone steps.