Landscaping Swansea, IL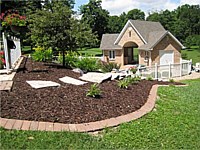 MK Outdoor Services offers comprehensive landscaping services to residential and commercial clients in the Swansea, Belleville, and O'Fallon areas. For years, clients in these areas have relied on our expertise for all their landscape maintenance, design, installation, and improvement needs. We have worked on so many projects that have tested our skills and knowledge to the limits. Through the years, clients have come to know us for our dedication to the job at hand, commitment to excellence, and outstanding work ethic.

If you have more questions about our landscaping services, or if you wish to request for a cost estimate, please call us at (618) 416-0862.
Experienced Landscaping Company
We are proud of our decades of collective experience in all phases of landscape work. We have handled both residential and commercial landscaping projects in Swansea and other cities in Illinois. Through the years, our company has worked on many challenging projects, particularly those that involved installation of various outdoor amenities. Our landscape designers, installers, and masons have adopted time-tested methods, which have made their tasks easier. We can work on tight deadlines and still provide the results that clients need.
Landscape Design and Installation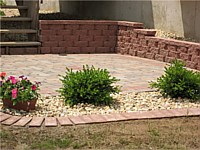 We can design and install landscape amenities and structures for private properties and commercial spaces. We can guarantee gorgeous and functional landscapes through modern design software, professional installation, and appropriate equipment and tools. We also use premium materials and landscaping products to provide clients with long-lasting landscape features and amenities.
Landscape Tasks that We Can Handle
As one of Illinois' most reliable landscaping companies, we at MK Outdoor Services can tackle practically all types of landscape-related tasks. We can handle installation of plantings, such as turf, shrubs, and trees, as well as hardscape features such as retaining walls, driveways, and walkways. We can also install water and fire features, curb and edging, outdoor living spaces, and decorative landscape rocks.
Likewise, we can handle requests for hauling, excavation, trenching, storm cleanups, sod and seed installation, erosion control, and many others. Just let us know the specific assistance that you need, and we'll take care of everything for you.
Work Done by Experts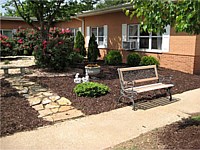 Unlike other companies that send inexperienced workers to project sites, clients in Swansea, IL and other areas that we serve are assured that all works are performed by expert landscapers. Our crews are licensed, certified, and experienced in all landscaping tasks, so projects run smoothly without delays. They can work fast without compromising quality, so your project can be completed without a hitch.
Affordable Professional Landscaping Services
We offer landscaping services at costs that clients can afford. Aside from our affordable services, we can also work with your budget, so you're assured that you'll get your desired services without paying more than your pockets permit. We have provided our budget-friendly services for countless clients in Illinois, and we can surely work out the best price quote for you.
Call us today via our customer hotline so we can answer your queries or concerns. Our landscapers will recommend the best landscape features and amenities for your outdoor area and provide you with a free project cost estimate.