Fertilization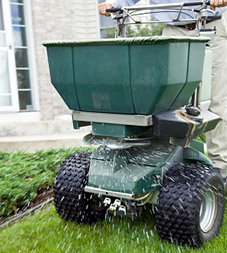 A properly maintained lawn or landscape will not only look stunning but also offer other outstanding benefits that should not be ignored. For example, a healthy lawn is a perfect spot for outdoor activities such as weekend get-togethers, picnics, and family bonding. The lawn will also become a perfect play area for your kids. You will also have blooming flower gardens, beautiful topiaries, and healthy trees. These can be achieved by performing various maintenance tasks, such as mowing and trimming, weed control, and fertilizing. The latter is a very important task since the topsoil may not provide all the nutrients that your plantings need. But fertilizer application is best left in the hands of professionals like us at MK Outdoor Services. As professional landscapers, we're trained and well-experienced in the proper application of fertilizers. We also follow the right application methods and techniques to achieve outstanding results. By getting our fertilization service, you are assured of a healthy and lush landscaping all year round.


Premium-Quality Fertilizers
Our company is known in Swansea and nearby areas for our adherence to strict quality standards. We never use substandard products and supply just to earn more dollars. We see to it that our fertilizers are top notch and sourced from reputable manufacturers. We may use the granular type or the liquid form to achieve better results. For environment-conscious clients, we highly recommend the use of organic fertilizers and mulches since they are considered safer alternatives. We may apply a complete blend or a specific nutrient, depending on the nutritional requirements of the plantings. Some of these may help facilitate foliage growth or enhance the plant's resistance against diseases and infestations.
Comprehensive Fertilization Program
At MK Outdoor Services, we offer a comprehensive fertilization program to ensure the health of all the plantings in your property. Our program includes careful assessment of the nutritional requirements of all the softscape elements. Other factors that we consider include the topography of your property, the current irrigation system, the topsoil, and the health condition of your plantings. We also take note of the installed plant species since their nutritional requirements vary.
Aside from fertilizer application, our comprehensive fertilization program also include weed and pest control. Weed and pest infestation can ruin the beauty of your lawn and may even pose health risks to people and pets. It is important to control or eliminate them to avoid massive damage on your turf, annuals, shrubs, trees, and other plantings. If you have a weed-free lawn, you can expect a healthier and a more robust turf.
Our fertilization program can be tailored to meet each customer's needs. We also fertilize our trees and shrubs.
March
Apply fertilizer.
Pre-emergent crab grass control
Broadleaf weed control
May
Apply fertilizer
Broadleaf weed control
Insect control
July
Apply fertilizer
Broadleaf weed control
Grub control
September
Apply fertilizer
Broadleaf weed control
November - Slow release winter fertilizer
Please call us today at (618) 416-0862 and let us prove to you why we are considered the top landscape maintenance firm in Illinois.